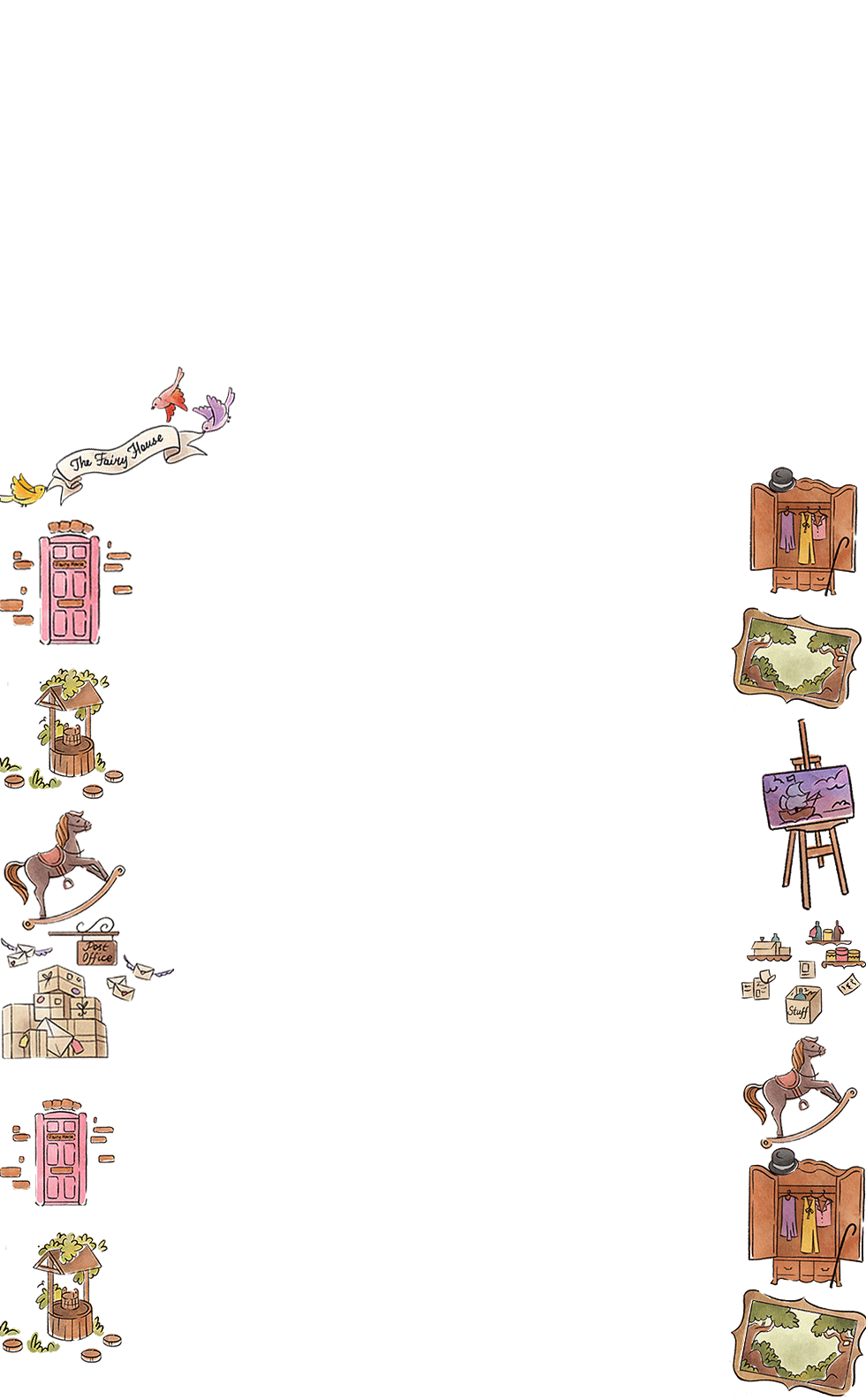 After you book the magic begins!
Invitations
The magic begins with a special fairy parcel in the mail!
​
After booking a Fairy House Birthday party we will send you a digital Save The Date invitation which you can send via your human device to the parents of the little fairies you'll be inviting to the party!
​
A little closer to the date of the party you will receive a special box in the mail! Inside will be:
- a pack of printed invitations and envelopes; already personalised with the Birthday child's name and all of the party details! All you need to do is add the guests' name and fold them into a little story booklet! You'll also find rose petals to sprinkle inside and fairy stamps to decorate the envelope with to make delivering the a part of the magic! (Please note that you need a human stamp too if using a human post service!!).
- You'll also discover a pack of large envelopes to open. These count down to the party with special magic to reveal in each one! Read a fairy story, play a fairy game, learn a spell, design a crown and find a fairy key! The envelopes will tell you what day to open them on. Two of them will reveal choices to make for your party; The flavours of your Birthday Cupcakes and the party bag gifts- which the fairies make themselves! You will be given a special form to upload your choices to in your party confirmation message.
For details regarding allergies please see our Q & A at the bottom of this page!
​
The day of your party
A special Birthday greeting.
On the day of your party, the birthday child and family is invited to arrive 15 minutes ahead of the start time for a special Birthday greeting with a fairy!
You will meet the fairy at our pink fairy door. We welcome you to take some photos in our fairy garden whilst you wait.
​
After the fairy invites you in, you will explore the first room in our Fairy House; The fairy living room! In here you'll meet talking furniture and spend time getting to know your new fairy friend who can't wait to learn more about you! You'll be given some Birthday fairy wings to wear and keep too!
We love this greeting, as it's a chance to make the birthday child feel extra special before all of their friends arrive.
This is also a lovely time to take lots of photos or videos, so don't forget you flashy box 'friendly giants' - (that's fairy talk for grownups and 'camera'!!).
Meet real fairies
They provide all of the magic on the day
​
Your Fairy Birthday is hosted by real fairies!! The Fairy House fairies have a magic potion that will make them grow big enough for you to see them at your party!
​
Fairies are very artistic and have many stories, dances, crafts & songs to share! All of which they have created themselves! Their role in the human world is to protect magic...
Sometimes this magic will start to disappear and the fairies need some 'Undercover fairies' to put through their paces in order to help!!
​
It's time to greet your friends!
​
As the birthday child is having their special greeting, guests will be welcomed inside through the front door (glass door) into our Tea Party room.
There we will have a table to put gifts and cards on a space to hang coats.
We will have name stickers for the children and Fairy Wings which the children can dress up in if they would like to for the party (they need to be returned at the end, except for the Birthday girl/boys!).
​
The Birthday child will be guided up to this room ready for their friends to wish them happy Birthday and for everyone to join together for a story to set the scene for their fairy mission!
​
Please see details about grown ups staying/dropping off further below.
​
Journey on a fairy adventure
Dancing, exploring, challenges, crafts!
​
Your adventure will take place in the form of an immersive show, set to our own music and interactive lighting! It will involve dancing, singing, craft making and groups challenges as you are given a special mission by the Fairy Queen to help with!We have an adventure for younger and for older fairies.
​
Please let us know when booking or in good time before party if you have attended another party with us so that we can plan for a different adventure or a twist to the craft and storyline.
​
Did you know that the fairies write all of their own stories and music you will hear? You won't hear it anywhere else in the world!
A special gift for the Birthday Fairy
Should our fairies in training be successful in their mission...(the fairies will ensure that they are!!)
The Birthday girl or boy will will be rewarded with a handmade flower crown which they will have chosen the design for ahead of their party! (Revealed in one of the magic envelopes!)
Time for a fairy tea party!
Fairy Birthday Cake
​
The fairies love to sing and want to make the Birthday fairy feel extra special!
​
We present their chosen Birthday Cupcakes around a model centre piece of the Fairy House Itself, complete with a tiny wishing well and fairy bicycle!
​
We will light the candle and sing Happy Birthday with all you your family and friends! Make a Birthday wish and take photos with the cake!
​
We'll save the cake for desert...first there are some savoury nibbles!
Fairy Food
Our tea tables are adorned with petals and delightful vintage china plates! Little fairies will tuck into a plate of cheese butterfly shaped pastries, carrot, cucumber sticks, apple slices and a pot of fresh strawberries!
​
​
Water will be given to drink as we prepare our Fairy House speciality; Unicorn Hot chocolates!!
​
We have vegan versions of the cheese butterfly pastries, cakes and Soy or Oat milk. We need to be notified in good time ahead of the party to provide these.
See more about allergens in our Q & A.
​
All of the rooms in The Fairy House are kept private to yourselves during your party.
Friendly Giant guests
(Grown-ups who stay at the party)
​
You'll have the chance to order table nibbles (carrot/cucumber/hummus, olives, crisps) and/or delicious cupcakes for adults on your final balance sheet a week before the party. These will be laid out ready for your guests to help themselves to throughout the party.
Grown-ups will have been offered hot drinks mid way through the party but can also order drinks when the children have theirs during their tea party!
​
We have an indulgent range of coffees, some with our own fairy house magical touch! Floral teas, rose lemonades and hot chocolates.
You can let us know whether you would like to pay for your adults guests' drinks, this can be settled up at the end of the party.
​
Please understand that food or drink from the human world including alcohol can not be brought into The Fairy House. We're sure you'll enjoy our whimsical fairy drinks instead! :)
​
See advice of whether parents should stay or drop off in our Q & A below.
​
Gift Bags to take home
Our gift bags are designed with love and carefully hand prepared by the fairies. All of our gifts are either handmade, or ethically sourced and designed to keep and treasure!
Choose from Fairy letter sets, Fairy Worry bracelets, wooden treasure chests & compasses and little flower fairies with pots and seed to grow a fairy flower!
​
All of the gift bags come with some little Fairy House extras too, like bookmarks, fairy photos and a fairy map to remember their visit. We personalise each bag with a name tag & finish with a bow.
Please understand that we can not add things into the bags that you find in the 'human world' as we need to uphold our Fairy House story and values of the gift we give.
You can view photos of our current gift bag selection.
​
​
​