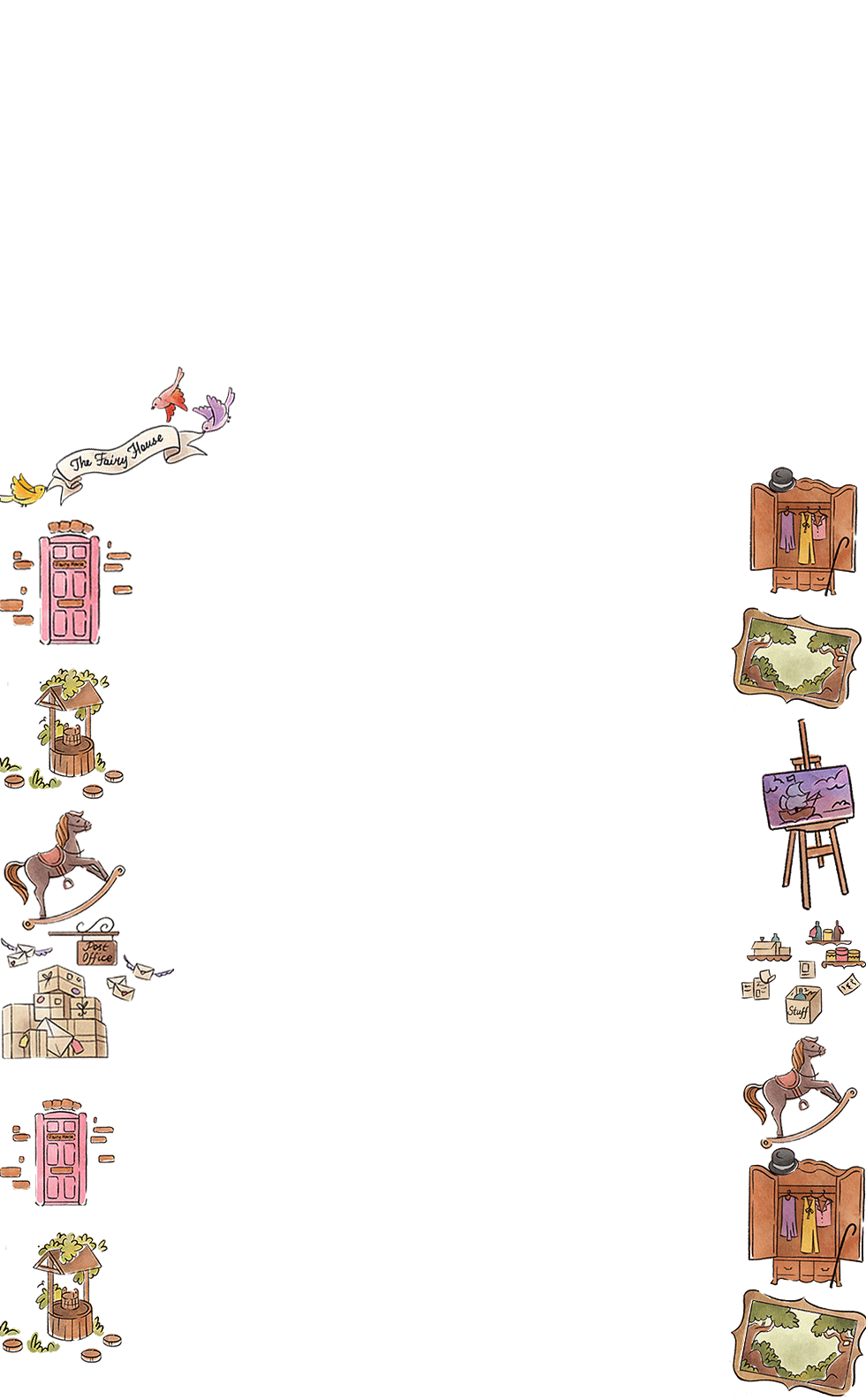 Fairy House Q & A for Birthday Parties
What is a Fairy House Birthday?
​
The whole Fairy House is reserved just for you and your friends! Enjoy a special experience all to yourselves with the birthday child at the heart of the adventure! Interactive challenges, dancing and craft making take place around the house with a beautiful life sized fairy to bring the story to life!
​
​
What happens at a Birthday visit?
​
The visit is designed with the Birthday child at the forefront, it is their special day after all! The fairies will have all kind of wondrous things in store to help them with their magic and all visits will include storytelling, dancing, craft making and challenges, narrated by the fairies and set to our Fairy House songs in our beautifully immersive setting.
​
The fairies understand that each little fairy-in-training is different and so they will be able to tell the fairies what they would like to learn most ahead of their special day! This might be which craft they'd like to make and whether they'd like more game-like challenges or clues based challenges and mystery solving, more dancing or more hands on challenges like potion making! This way we are able to adapt the experience for different ages and ensure the Birthday girl or boy is doing their favourite fairy things!
A magical personalisation form will be sent to you ahead of the day to select these choices.
View a step by step guide through our Birthday Parties here: VIEW BIRTHDAY GUIDE
​
What's included?
​
- The magic begins with a fairy parcel in the post for the Birthday girl or boy with a special invitation from the fairies to come to the house to celebrate their birthday! The parcel is beautifully packaged with a selection of envelopes to open, revealing fairy secrets, stories, spells, and a fairy friendship key to look after.
​
- A 15 minute Birthday Welcome for the Birthday girl or boy before the visit officially begins will give your little human a chance to settle in and become acquainted with their new fairy friend as they get to know one another. You can also capture the moment they meet a real fairy on camera too!
​
- An hour long adventure exploring the fairy house with dancing, craft making, games and challenges! The Birthday child will be able to personalise their visit before the day by selecting which craft they would like the fairies to teach them and which activities they'd enjoy learning most!
​
- Ahead of the day, the Birthday girl or boy will be asked to colour in their own fairy flower crown. At the end of the experience, the fairies will present this crown- made from the most beautiful silk flowers for them to keep!
​
- A 30 minute Fairy Tea Party in our tea room where the children will each get to choose a magical drink and cake. We will sing Happy Birthday and have photo opportunities.
(Grownups are able to purchase any drinks or cake they would like from our menu, or we can set a tab for you).
​
- The Birthday child and any little guest attending will receive a Fairy House gift bag with a handmade Birthday favour chosen by you ahead of the special day!
​
Do you cater for dietary requirements?
​
We have vegan & wheat free versions of our cheese butterfly pastries and vegan and wheat free Birthday Cupcakes are available upon request. Oat and Soy milk alternatives for our drinks and a vegan hot chocolate.
​
​
**All of our bakery items are baked in a bakery where nuts, wheat, dairy and all other allergens are present. We can not guarantee against traces of allergens in any of our products**
​
Please email the fairy house to discuss allergy and dietary requirements.
​
We request on the invitations that parents contact us a week before the party regarding any allergies as we will need to confirm with them via email a suitable fairy tea for their little one :)
​
How long does a Fairy House Birthday last?
​
1 hr 30 (plus an extra 15 minutes at the start for the Birthday child)
​
- A 15 minute Birthday Welcome for the Birthday girl or boy before the visit officially begins will give your little human a chance to settle in and become acquainted with their new fairy friend as they get to know one another.
​
-A 1 hour magical Birthday experience takes you around the house; singing dancing, craft making and solving challenges along the way.
​
- 30 minutes for fairy nibbles, tea & cake! We'll reserve our tea room just for you where you can enjoy delicious drinks & fairy Birthday cupcakes!
Little fairies will love picking their favourite magical treat; perhaps a Unicorn Hot Chocolate or fairy-chino... Grownups can indulge too with a lavender lemonade or maybe a rose latte! We have lots of choice, see sample menu
​
Can we book The Fairy House for longer?
​
All Birthday visits are a 1 hour 30 experience plus a 15 minute birthday greeting for the birthday child. Our visits our specially planned out to create the best experience for our human visitors; ensuring the magic stays exciting and engaging throughout for the children.
How do I book a Birthday?
​
First fill in our date checker on the Birthday page, we'll let you know our availability and if you'd like to book we'll send you our magical booking form!
​
​
How to I pay?
​
The £195 is taken upon booking which includes the place of the Birthday Child. The £29 per child is taken a week before the party once you confirm numbers. Payment is made via card on the booking form we will send to you.
​
​
How many children can attend a Birthday?
​
Fairy House Birthdays are for up to 13 children including the birthday child.
​
There is no minimum requirement other than the Birthday child! Our maximum capacity can be 13 children and 14 supervising adults. (Please bear in mind that we are a cozy sized venue. From experience we recommend only a small number of adults stay where possible as the children's experience is more focused and magical this way! For a 3rd/4th birthday we recommend that a small group of up to 8 children works best! :)
Can siblings attend?
​
They will need to be counted as one of your guests if they will be taking part and would like the nibbles, cake, drink and gift bag. Under 1years can observe for free. It's not suitable for guests to bring siblings along unless they are counted as a guest. This is for the health & safety of those attending and of our fairies whilst performing.
How many adults can attend a Birthday?
​
Our maximum capacity is 13 children and 14 adults. We recommend much fewer adults attend wherever possible to give the children the most magical experience. (Whilst we want everyone to have fun, too many grownups can create a lot of background noise and detract the children's focus, taking away the special intimate moments of the magic).
**There must be at least one supervising adult stay at the party and with the children at all times for safety,
What do I need to bring to the Birthday?
​
Nothing! Well- just yourself, the special Birthday visitor and a flashy box!-(fairy word for camera!).
​
There will be a few things we'll ask you to share with us before the day including a personalisation form with the names of the attendees, some fun facts about our Birthday visitor and their choices of things to make their visit special. Also their flower crown design for us to make! Other than that, leave the rest to us! We're magic for a reason ;)
​
Can we bring our own food and drink for a Birthday?
​
We don't permit any food or drink to be brought into The Fairy House including alcohol.
After your adventure around The Fairy House the fairies will serve butterfly shaped cheese pastries and crudités in our fairy tea room! We have a unique selection of hot and cold drinks; all with a magical twist for the children to choose! We also have a selection of delicious Cupcakes baked by our very own Fairy Baker and decorated with our signature fairies on top! The children will enjoy their savoury nibbles, a magical drink and a Birthday cupcake each! We will put a Birthday number candle on the birthday child's chosen cupcake for a special Birthday sing-along and photos!
​
Grownups can purchase drinks & cakes for themselves individually or we can set up a tab for you.
​
What ages can celebrate a Birthday at The Fairy House?
We host Birthday parties from a 3rd Birthday upwards. Younger children are welcome to attend our Fairy Experiences but will need some extra grown-up help with their magic!
There is no upper age limit for children attending The Fairy House, just a belief in magic and a love of fairies is required.
At this current time, adults will need a child with them to attend our events as we have created the activities with this in mind. We do hope to develop experiences solely for adult groups in the future so watch this space!
For adults who you think may benefit from our fairy activities, please do get in touch as you would be most welcome to attend.
​
**Please note that our experiences for both events and Birthdays transition between rooms in The Fairy House which are divided by stairs. Only one room in the house is pushchair and wheelchair accessible. These would need to be left at your table and not be taken around the house**
​
Are the fairies real?
​
The fairies are real, as is everything in their house!
Children will have many perceptions of fairies from storybooks, films etc. To really bring them into our magical story, it helps if the children understand why some of our fairies will be big ahead of your visit. This will be explained in their invitation and for very curious fairy enthusiasts you can read more about The Fairy House Fairies here.
if you're worried about a more sceptical visitor, their visit is a lovely a chance for them to just enjoy the experience and challenges without the judgement of their peers.
The fairies address little humans and big humans in a magical manner, so please always address them as fairies too. If you believe, it helps to keep the magic alive for everyone :)
What is Fairy Money?
Fairy Money is our own custom made currency to be spent at The Fairy House in our Tea Room or Shop! It makes choosing treats all part of the magical experience for with little and big humans! It also encourages little humans to choose carefully what they'd like their treasured money to be spent on.
You can add Fairy Money to private Birthday Bookings at the point of booking, when you submit your final details form before the visit, or you can purchase it as a gift for someone from our Fairy Shop!
​
What if we have the cancel our booking?
​
The £195 payment is non refundable as we have secured and held a date for you. You are however able to change the date of your booking so that you don't miss out on the magic! If you cancel at more than 1 months notice we can move you to another weekend date subject to availability. If you cancel at less than 1 months notice, the booking can only be moved to a weekday date (Wednesday-Friday) after school or in school holiday times. Please see our full cancellation policy here.
What happens if we can't attend our visit due to illness
​
Don't worry- we can reschedule the magic! The £195 payment is non refundable as we have secured and held a date for you. You are however able to change the date of your booking so that you don't miss out on the magic! If you cancel at more than 1 months notice we can move you to another weekend date subject to availability. If you cancel at less than 1 months notice, the booking can only be moved to a weekday date (Wednesday-Friday) after school or in school holiday times. Please see our full cancellation policy here.
Is there parking at The Fairy House?
​
If you need a spot to park your car or unicorn; meter parking can be found along Webbs Road and some of our neighbouring streets. The parking is free of charge on Sundays. We always advise leaving extra time to secure a spot, so you aren't rushing into your visit.
What's the nearest tube or train station?
​
Clapham Junction is the nearest train station which has quick links to Waterloo, London Victoria and trains to Surrey, Essex and Brighton amongst others. Our closest Tube Stations are Clapham South and Clapham Common which are on the Northern Line..
​
Is The Fairy House wheelchair & pushchair accessible?
Due to the layout of our Victorian building, each room is divided by stairs and is not accessible to wheelchairs or pushers. Only the Tea room
/shop at ground ground level is accessible but still has a raised door step inside and a single door.There is not a wheelchair accessible bathroom.
Space inside is very limited an pushchairs should be avoided being brought unless essential. They will need to access through the front door and be left at your table as you travel around the rest of the house.
What should I wear to the party? Are there fairy wings we can wear?
​
Anything that you feel will help you to enjoy the experience! If you'd like to dress up in your fairy attire this is definitely encouraged! The Birthday will receive fairy wings to keep as part of the experience and there will be dress up wings for the guests to borrow during the party. We suggest wearing comfy shoes as we'll be moving around a lot as we explore. Expect some fairy dancing too!
Can we take photos?
​
Yes absolutely, please do! We have lots of lovely spots for a photo and it's a great way to create memories! The fairies love to have their photos taken too, just snap away!
Our favourite photos spots are; in front of the pink fairy door, on the fairy swing, by the butterfly wall and sitting the Fairy Throne!
​
We even have our own photos on that world wide human photo album..oh what's the word? Istagram!! @thefairyhouselondon so you can keep up to date with the magic!
What payments do you accept?
​
Birthday bookings and event tickets are to be pain for online in full via card payment. We do not accept bank transfers, cash or cheque.
Our shop accepts card payment and Fairy Money. Drinks & Cakes can be paid for at the end of your visit by either card or with our own currency; Fairy Money! This can be purchased ahead of your visit from our online Fairy Shop.
Who owns The Fairy House?
​
The Fairytale Friends fairies!!
Founded by Katie & Ben* a human friend to the fairies* We are a tiny team of artists, storytellers and musicians with a hope and a dream of creating a more magical world.
​
Are there any nice restaurants nearby?
​
Webbs Road run adjacent to Northcotte Road in Battersea. Here you'll find a long strip of restaurants with many independent eateries and some lovely boutiques too. We are also a short walk away from Clapham Common, or if you'd like to go exploring; Battersea Park is one of the fairies' favourite spots in London.
​
.......................................................................................