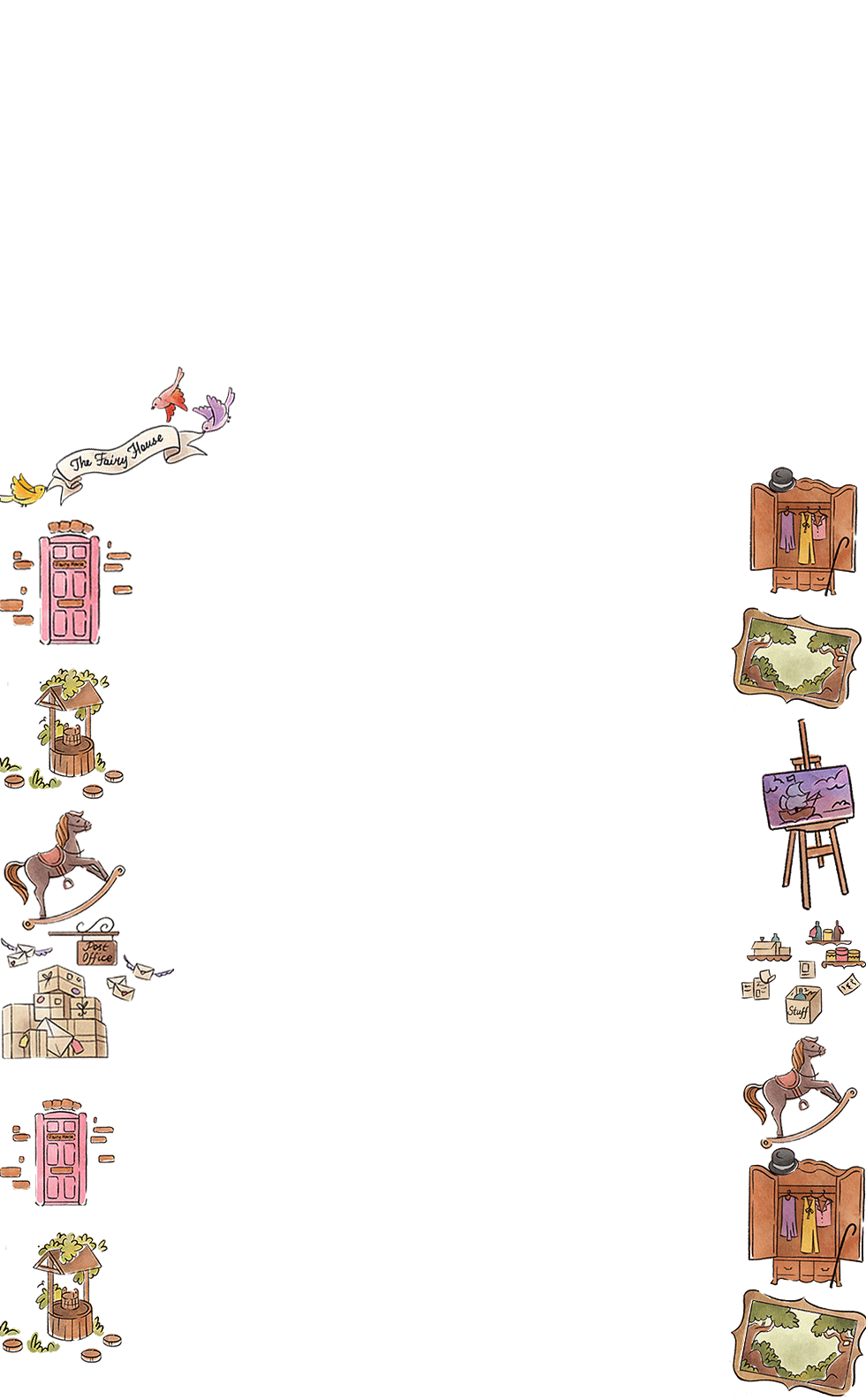 A Fairy Birthday is a very special day; the day when you become a fairy!
Enjoy The Fairy House all to yourselves as the fairies create an unforgettable party for you and your friends!
Count down to the big day...
The Birthday girl or boy will receive a beautiful fairy parcel in the mail with a letter personally inviting them to The Fairy House! Tucked inside are some secret envelopes revealing all kind of wondrous things! You'll be able to learn spells, study our fairy map, design your Fairy Flower crown for the fairies to make for you and look after a Fairy Friendship Key! There'll also be a beautiful handmade invitation to give to each of your friends.
​
Your special day is here...
On your Fairy Birthday you'll be greeted at the Fairy Door by a real life fairy who can't wait to meet you!
Learning to become a fairy is very exciting work! You'll be given your own wings to help you dance, sing & treasure hunt your way around The Fairy House whilst the fairy brings a magical story to life! The house comes alive with the glow of 100's of twinkling fairies above your heads and enchanting music fills the air. Uncover hidden treasures, make a craft to keep, learn how to use a wand, throw a penny in the wishing well and help the fairies with their potions! The fairies have challenges for humans small and big, encouraging team work and friendship, all they need is for you to believe in magic!
Fairy nibbles, drinks & cake!
After your hour long adventure, the celebration continues in our enchanting tea room where we'll throw you a private tea party! The fairies will sing Happy Birthday as they present a beautiful round of Fairy Birthday Cupcakes (Chosen by your little fairy and made by our Fairy Baker!) with our model Fairy House as the centre piece! A birthday wish is made as they blow out their candle and share a special photo with us. The children tuck into a platter of butterfly shaped cheese parties & crudités with our Fairy House favourite drink; Unicorn Hot Chocolates then it's cake and strawberries for desert!
​
Friendly Giants (grownups!) are able to enjoy a taste of magic too with rose- lattes, colour changing teas, floral iced drinks as well as all your 'human' barista coffee favourites! **Adult nibbles & a round of cakes can also be preordered ahead of the day**
Fairy House Sample Drinks Menu
​
Savoury nibbles, a Fairy House drink & cake is included for each child attending. Grownups can purchase drinks and cakes individually or we can set a tab for you.
**No external food/cake/drink can be brought to or consumed at The Fairy House except baby food**
Gifts to take home
The perfect reward for helping the fairies with their magic is a special handmade gift to treasure. A beautiful fairy flower crown, designed by the birthday girl or boy, will be presented as they are crowned the King or Queen of magic! A Fairy House gift bag will also be given to the birthday fairy and to any little guests attending with a choice of a handmade favour you can pick ahead of the day.
Birthdays Price
£195 + £29 per child
The Birthday Child is included in the £195. You can add up to 12 more children at £29 per child.
Included with Birthday: *Private hire of the Fairy House* *A magical adventure with entertainment and activities hosted by the fairies* *Fairy activity parcel for the Birthday child in the post upon booking* Handmade invitations for your guests* Savoury nibbles, a magical drink and a Birthday Cupcake for each child* A party bag with handmade gift for each child.* A handmade flower crown and fairy wings gift for the birthday child*
​
Everything is included, so you can relax and enjoy the magic!
​
View our Birthday Guide to journey through the party step by step!
How to book a Birthday
Fill in the date checker form below, we'll confirm if we have availability and then will send you a booking form to plan your magical day!
​